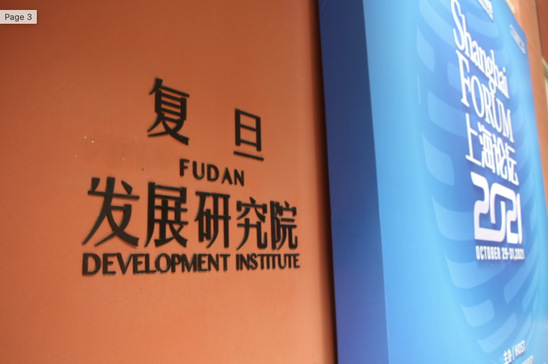 Introduction
Being the pioneer among all domestic think-tanks established after the reform and opening-up, Fudan Development Institute (FDDI) is well-renowned as the first batch of Key Think Tanks of Shanghai, as well as China's Top 10 Most Influential Think-tanks.
Characterized by multi-disciplinary studies, motivated by top-notch academic practices, empowered by global management and innovative incubation, FDDI is a comprehensive global research organization focusing on China Development Studies while optimizing the management of the think tank cluster at Fudan University. By means of coordinating and managing three core think tanks, and meanwhile constantly incubating and improving other think tanks and research institutions with the function of mobilizing expertise to support policy making process, FDDI is devoted to the coordinated and cooperative development of Fudan think tank cluster with its systematic approach of overall planning,
FDDI leverages on Fudan University's global influence and strong foundation in various academic fields to attract talents worldwide. As FDDI embraces diversity, a multi-dimensional network links Fudan-Shanghai-China-the world has been developed. Under the network, FDDI has incubated 20 research institutes, and has taken the lead in pioneering works such as launching Overseas Centres for China Studies, establishing the university-based Global Think Tank Centre, and initiating the Fudan-Latin America University Consortium and the BRICS Universities League. With its comprehensive and robust network, FDDI combines domestic and overseas resources to identify opportunities for future collaborations, contributes to the promotion of national development and human progress with acknowledge and expertise accumulated at Fudan, and provides China's best solutions in resolving global issues.
Mission
A Top-notch Think Tank to Serve the Nation
Commitment
The Institute is rooted in Fudan as it endeavors to become a leading university-based think tank to provide policy consultation and to enlighten the people by integrating the "academic essence" of Fudan.
The Institute is based in Shanghai as it engages the relevant knowledge institutions in Shanghai to build a think tank cluster and make the "Voice of Shanghai" heard.
The Institute focuses on China as it promotes a think thank synergism in China to tell the "Story of China".
The Institute incorporates Asia to foster multifaceted exchanges and to seek extensive consensus across the Asia-Pacific region, in order to crystallize the "Wisdom of Asia".
The Institute embraces the world as it builds overseas research centers and takes the lead in the studies on China and articulates the "Chinese Approach".
Structure
LOGO