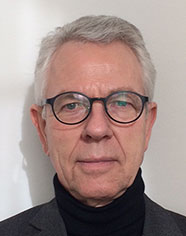 Senior researcher Geir Helgesen has a background as an early childhood educator and a cultural sociologist with a PhD from University of Copenhagen. In his academic career, he has been focusing on East Asian political cultures and East-West political relations. Besides heading several international, cross-cultural research projects, he has been active in advising private and public companies based in the Nordic region and operating in East Asia, and occasionally East Asian companies operating in the Nordic region.
He has also been used by the Nordic news media giving background information on East Asian political affairs, with a main focus on the two Koreas. Until 2019 he was director of the Nordic Institute of Asian Studies, and of the Fudan European Centre for China Studies, both at University of Copenhagen.
Academically he is currently focusing on rethinking East – West Area Studies in collaboration with colleagues at Fudan University and at SOAS University of London. With East Asian and Nordic colleagues, he took the initiative to establish a summer school for students, East and West. The Summer school: Nansen East-West Dialogue Academy or NEWDAY is focusing on cross-cultural communication and understanding. It was established in 2017 at the Nansen Academy in Lillehammer, Norway, and the 4th summer course will take place in 2020. Helgesen is currently managing the consulting company: Cross Cultural Solutions.