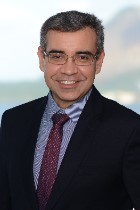 Evandro Menezes de Carvalho (Chinese name: 高文勇) is a specialist in Chinese Law and international trade. He is a Professor of International Law and Head of the Center for Brazil-China Studies at Getulio Vargas Foundation School of Law (FGV Direito Rio) in Rio de Janeiro, and Professor of International Law at Fluminense Federal University School of Law (UFF). He is a Ph.D in International Law at University of São Paulo (USP).
From 2013 to 2015, Dr. Carvalho lived in Shanghai and worked as a Senior Scholar at the School of Law of the Shanghai University of Finance and Economics (SHUFE) under the OAS-CSC Program (Organization of American States and China Scholarship Council) and also as Senior Expert at the Center for BRICS Studies at Fudan University under the Recruitment Program of High-end Foreign Experts. Mr. Carvalho was one of the 60 foreign experts, including two economists awarded the Nobel Prize, which were invited to take part in the "Meeting of Consultation of Foreign Experts" with the Premier Li Keqiang (2015). In 2016, he was appointed to take part in the Program "Bridge to the Future – Youth Leaders from Latin America", a project launched by President Xi Jinping during his visit to Latin America in July 2014. In 2018, he was one of the 38 foreign sinologists selected by the Chinese Ministry of Culture and Tourism and China Academy of Social Science (CASS) to attend the "Visiting Program for Young Sinologists". Based on his experience and recognition as a sinologist by Chinese government, Dr. Carvalho offers to Chinese clients a special approach and knowledge on legal aspects of business development in Brazil.
Dr. Carvalho has frequently visited China and been working as visiting professor in several institutions such as Fudan University (BRICS Summer Program, since 2015), Shanghai University (MBA Center & Global Management Education Institute, under the Foreign Expert for State High-end Project, 2015-2017) and Southwest University of Political Science and Law as a Scholar of Academe of BRICS Laws, in Chongqing (2016-2018).
He is frequently called on to share his perspective and insights as an expert on China. He has appeared on CGTN (Program "Dialogue" and "Closer to China"), CCTV Spanish (Program Dialogue), Record TV and Globo News. He has been features in Xinhua News, People's Daily, China Today, China Daily, Global Times, China Radio International and
numerous other publications. Dr. Carvalho is also the author of numerous books, including Semiotics of International Law: trade and translation (New York: Springer, 2011) and L'intégration normative: le droit dans un context multiculturel et multilingue – Normative Integration: law in a multicultural and multilingual context (Rio de Janeiro: FGV-Université Paris 1, 2013).